The photos below show the fireline and smoke on Sunday, October 26th, 2003. The Mountain Fire, as it's called by various media sources, apparently started around 11:45am Sunday and had consumed 10,000 acres of brush, damaging 6 homes 24 other structures as of 11am October 27th. Many people have had to evacuate their homes in the fire's path in the Temecula Valley wine country. The evacuation shelter was the Temecula Valley High School gymnasium.
The pictures were contributed by Henry Rayna, Bob Hagel, Robert De Armond, Wendy McIlvride, Ian Fawn-Meade, and Bethany Debus.
Tuesday, October 28th, 2003 updates: According to local reports, favorable wind conditions have allowed firefighters to 50% contain the Mountain Fire as of last night. The fire's footprint did not increase yesterday afternoon or eventing at all. The City of Temecula is reporting full containment of the fire this morning, and is also reporting 31 residences destroyed. Full control of the fire is expected on Thursday.
Wednesday, October 29th, 2003 updates: According to The Californian this morning, 9,898 acres were burned and 21 houses, mobile homes and travel trailers were destroyed in the Mountain Fire. At its height, 697 firefighters were on the front lines, and that number had declined to 414 as of last night. The blaze is contained, and is expected to be 100% surrounded today.
Wednesday, October 29th, 2003 updates: New photos have been contributed, and show the spread of the fire Sunday.
November 12th, 2003 updates: More photos have been contributed by Bethany Debus.
October 29th (Wednesday stories) include fire updates. Scroll down to the Californian area.
October 28th (Tuesday stories) include many fire updates. Scroll down to the Californian area.
December 22, 2004: 2003's Mountain fire was determined to have been caused by a wellhead electrical malfunction on De Portola Road, east of Temecula.
You can read more about the fire in this October 27th (Monday) Californian newspaper story.
This picture, courtesy of NOAA, gives an enhanced satellite look as of 1pm October 26th of Southern California wildfires. Note that the Temecula Valley's Mountain fire would not have been large enough to register as more than a pinprick at that point in time. This updated picture from 12:44pm October 27th clearly shows the Mountain Fire, although it is not nearly as large as the other fires in the region.
Browse a chronology of major Southwest Riverside County wildfires.
The following photo was taken at 6:30pm October 26th, from Glen Oak Hills and is courtesy of Robert De Armond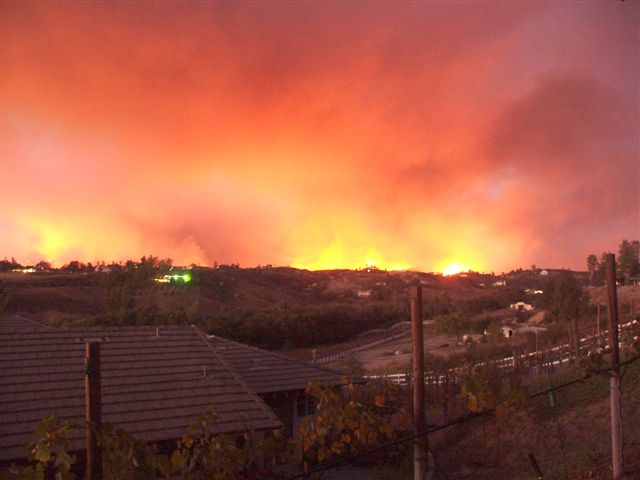 The following photos were taken October 26th, from the Oak Ridge Ranches area and are courtesy of Ian Fawn-Meade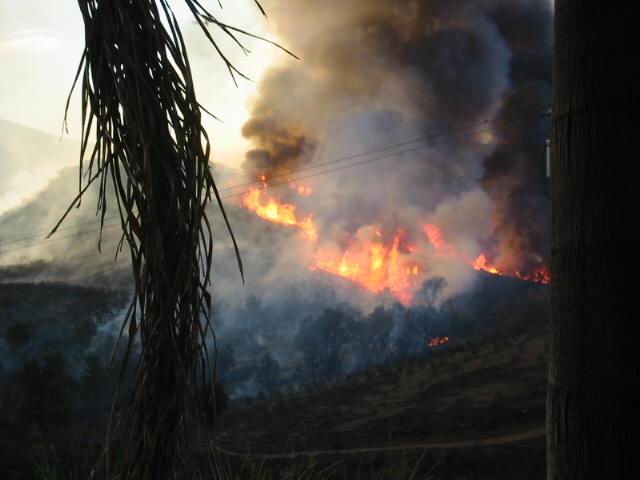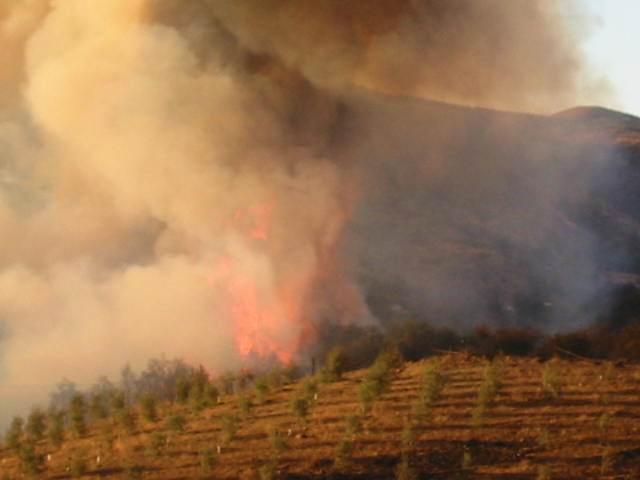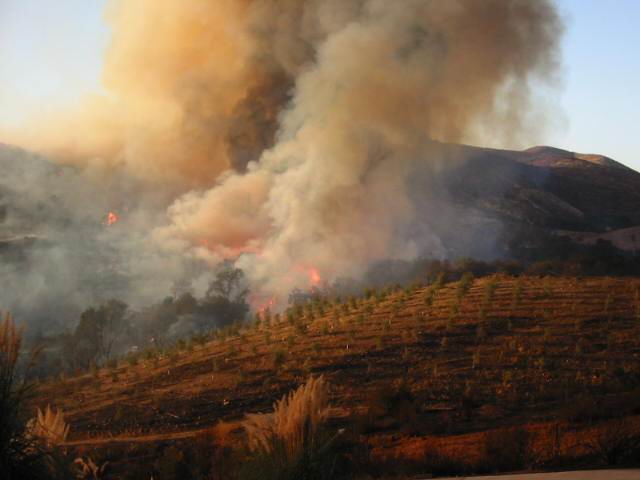 The following photos were taken October 26th, from the Glen Oaks area at Glen Oaks and De Portola roads and are courtesy of Bethany Debus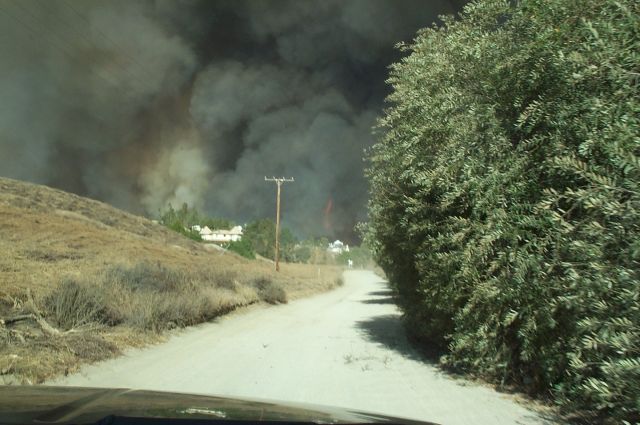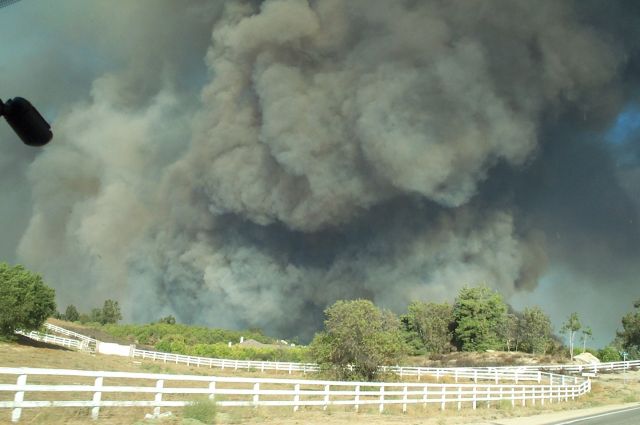 This photo was taken around 5:45pm October 26th, from Rancho California and Anza Roads and is courtesy of Wendy McIlvride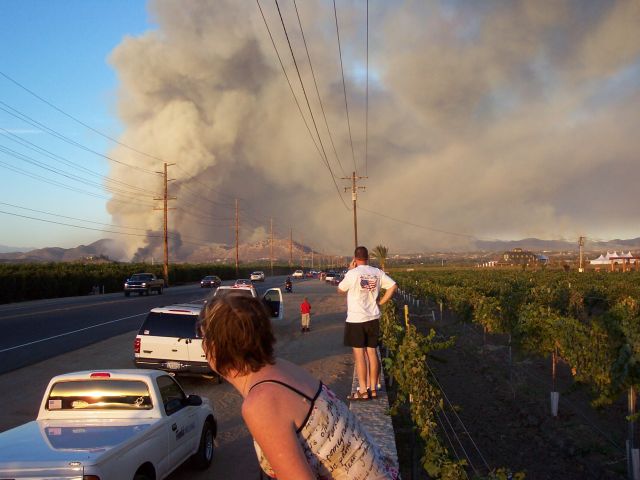 The following photos were taken at 4:30pm October 26th, from the Rancho Del Vista Area (Murrieta Hot Springs and Pourroy Road) and are courtesy of Henry Rayna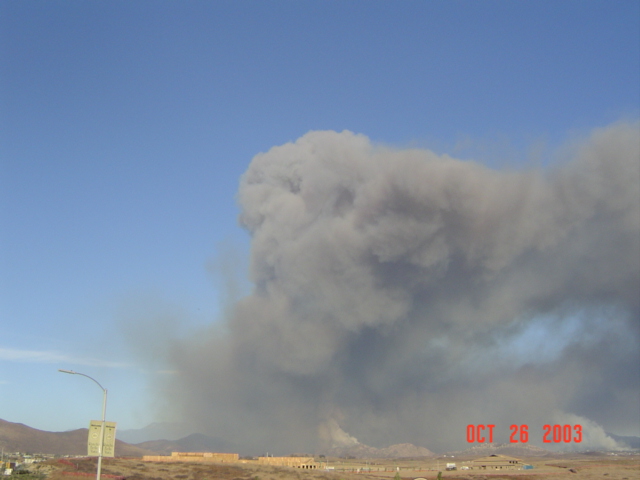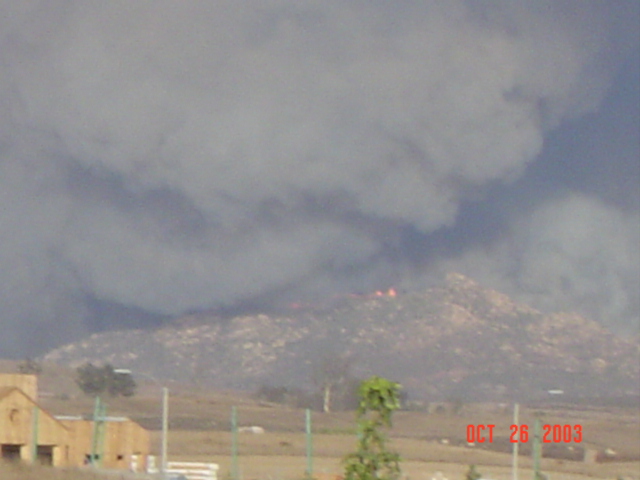 The following photo was taken at 5:20pm October 26th, from Paloma Del Sol and is courtesy of Bob Hagel