Posted December 20, 2010, 10:04 PM.
---


A total lunar eclipse, due Tuesday night on the winter solstice, will probably end up being obscured by storm clouds.

The lunar eclipse, in which the earth moves between the sun and the moon, will be visible, weather permitting, across North America and parts of South America, and to a lesser extent from other continents.

Viewing would theoretically begin around 9:30pm, with the total lunar eclipse between 11:40pm and 12:53am Wednesday.

The weather forecast for our area calls for periods of heavy rain throughout Tuesday, the fifth day of a colossal storm. Skies are expected to be overcast.

The last total lunar eclipse was on February 20, 2008. The next one will be on June 15, 2011, but will visible over Africa an Central Asia.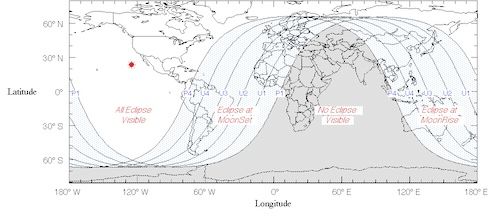 Other Recent Weather News for Hemet, California