Posted July 4, 2011, 6:32 PM.
---


Despite a few thunderclouds drifting west of the mountains on Monday, little if any measurable rainfall was recorded at WeatherCurrents' fifteen stations in Southern California's inland valleys. Most of the Independence Day weather activity was over the mountains and deserts.

One cell led to some raindrops in San Jacinto, Menifee and Lake Elsinore in the 2pm hour as it traversed the Elsinore Convergence Zone. WeatherCurrents' Lake Elsinore station registered 0.02", but the was at least one report of up to a half an inch of rain elsewhere in the city.

Michael Mojarro reported being blasted by gusty winds and rain on Central Avenue. "I'm sure at least a half inch of rain fell," he said. This video captures a portion of the storm in Lake Elsinore.

"We received light showers for about 20 minutes," said Monty Parrott from the east San Jacinto area. "The USFS 3 cams, located at Red Mountain Lookout (in the San Jacinto mountains), reported 0.11 as of 1435 hours."

In Beaumont, there were "sprinkles throughout the afternoon but not measurable," according to Rick Leonard.

One consequence of the cloud cover were cooler temperatures. After three days of triple digit heat, only Wildomar, Lake Elsinore and Perris topped 100°F Monday. Monday's maximum temperatures were generally four to six degrees off Sunday's highs.

The slight chance of thunderstorms is predicted to continue through Tuesday. Following that, monsoonal moisture is expected to diminish the rest of the week.

Thanks to Monty Parrott, Rick Leonard and Katy Parkhurst, who contributed to this report.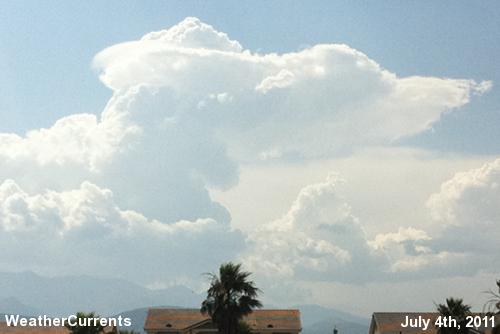 July 4th Thunderhead from San Bernardino (©2011 WeatherCurrents)
Other Recent Weather News for Hemet, California