This is the single most popular question I've been asked the most recently. And initially I thought the answer was no. Certainly it hasn't snowed recently, at least not in the eight years that I've lived in town. I do remember one cold morning in 1996 when the southern foothills were covered in snow (the snow level got down to 2500 feet that morning), but there haven't been any reports of snow in the western part of the Temecula Valley, which ranges from about 1000 feet to 1200 feet in altitude above sea level. At least not in the first seven years I've lived here. Snow in the Temecula Valley can be considered a freak, once-in-a-while occurrence.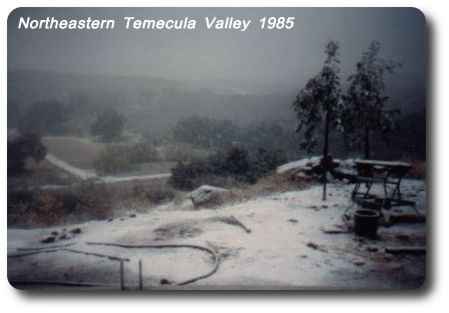 Well, it has happened! Snow fell at least twice in the Temecula Valley in 1985, on March 2nd and November 5th (and more recently on January 29th, 2002, although there was no snow acculumulation). It's unknown which of the two dates these photos are from. The ranch shown is in the eastern Temecula Valley, about eight miles from the city, with an upper elevation of 2000 feet. The snow was short-lived, lasting only hours (even in extreme conditions the ground is not frozen in the Temecula area, and snow would melt quickly). There is another unconfirmed report (sorry no photos for this one) of snow out in the Glen Oaks area (east of Temecula proper) about six years ago.
Although it's not unusual for low temperature to be in the 30's and sometimes the 20's in the winter, these temperatures usually occur when it is clear. Storms in our area normally mean cloud cover, which ordinarily leads to temperatures in the 40's and 50's when rain usually falls. There are rare exceptions, though, and every now and then we get storms where the snow level drops to 2000 feet, sometimes lower. That's not that far away from 1000 feet, and when those rare very cold storms occur (such as on January 29th, 2002), you never know.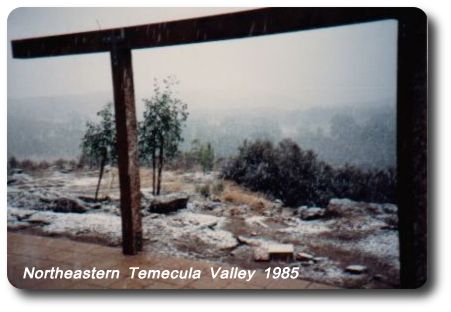 The most famous snow occurrences on the coast in lower elevations of Southern California in the 20th century occurred in the Los Angeles area in 1930's and 1949. Information outside of the Los Angeles area is sketchy.
Many thanks to Sharon Dial for providing the photos and information about the 1985 snow events. Thanks also to Curtis Croulet for related southern california snow information.
See a list of all features, including fires, snow, hail and other events, on the features page.