Posted March 8, 2011, 6:42 PM.
---


The worst winds were near Burns Canyon, in San Bernardino County, not far from the Banning Pass, where National Weather Service reports had gusts of up to 73 mph.

The very high winds were confined to the desert areas, and occurred in the morning hours.

In the community of White Water, in the Banning pass area, gusts of up to 72 mph were reported. Desert Hot Springs, nearby, had winds gusts of up to 64 mph. In San Diego County, Borrego Springs recorded winds gusts to 65 mph.

Some street closures were necessary in northern Palm Springs from the blowing dust, according to InlandNewsToday.com. A few power lines were also blown down.

In the inland valleys, the winds following the storm were much more subdued, and peaked in the afternoon. Murrieta had wind gusts to 34 mph, Lake Elsinore to 31 mph, Wildomar to 28 mph, Temecula to 27 mph, Menifee to 24 mph, Hemet to 23 mph, and Perris to 20 mph.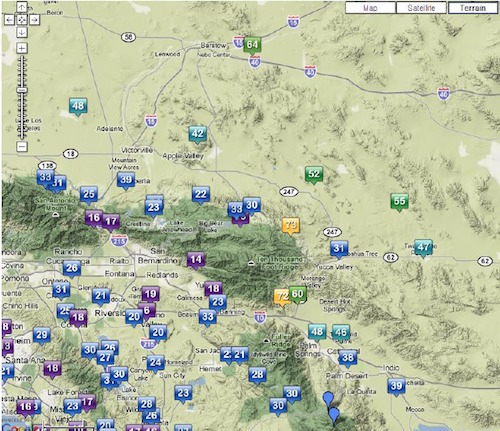 Peak Wind Gusts, including WeatherCurrents stations (courtesy of National Weather Service)
Other Recent Weather News for Hemet, California